Robert-Ralph Carmichael , 1937

Occupation: Painter Designer

Biographical Sketch:

Robert-Ralph Carmichael, painter and designer, was born in Sault Ste. Marie, Ontario, in 1937. After taking drawing and painting at the Ontario College of Art and Design in Toronto, he graduated in 1959. He then attended Carleton University and graduated with a Bachelor of Arts in 1964. In 1994, Carmichael was awarded an honorary degree, Doctor of Letters, from Algoma/Laurentian University. He has made his home in Echo Bay, Ontario, and works as a full-time painter. Carmichael's representational paintings have included themes such as the human condition, our relationship to the environment and each other as well as images and symbols. He is the author and illustrator for "The Seed-Pod Book of Joy," written in 1974. Collections of his artwork can be found at the University of Calgary and the University of Alberta, Glenbow Institute, Canadian Art Bank, Alberta Foundation of the Arts, and the Peter-Whyte Foundation. Carmichael's exhibitions titled Tango, Studies and Reflections, Bob Carmichael Returns, the Month Series, Creatures of Reflection, and Temptation of Aquarius have been featured in several galleries across Canada. Robert-Ralph Carmichael has also designed coins for the Royal Canadian Mint, including the one dollar coin, which is affectionately called "the loony."

ISN BIOPHIL: 160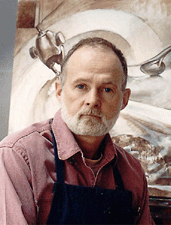 Robert-Ralph Carmichael, 2003. Photograph provided by R. Carmichael.