Sophie Lafortune , 1963

Occupation: Graphic designer

Biographical Sketch:

Sophie Lafortune, a graphic designer, was born in Québec, Quebec, on April 8, 1963. Her father, François Lafortune, is a retired artistic photographer who served as director and curator of the library of the Musée national des beaux-arts du Québec. Her mother, Suzanne Caron, studied at the École des beaux-arts de Québec and taught plastic arts in Québec's recreation department for a few years. Sophie Lafortune still lives in Québec with her husband and two children. From 1974 to 1979, she attended the Cégep de Sainte-Foy, where she obtained a diploma of collegial studies (DEC) in graphic design techniques. From 1984 to 1987, she continued her studies in graphics communication at Université Laval. She was awarded a bachelor of arts degree in 1987. In the summer of 1988, she did a design internship with the Cossette Communication group in Québec. Sophie Lafortune built her career in Québec. From 1987 to 1990, she worked as a designer on the creative team of the Olive Communication advertising agency. From 1990 to 1991, she was artistic director of La Pensée publishing house, which specializes in textbooks. In 1992, she went back to advertising as artistic director for the BCP Stratégie Créativité agency before founding her own advertising firm, Klaxon, in 1995. Since then she has collaborated closely with Monique Dufour. They design brochures, posters, exhibition concepts and numerous other products for private companies and government departments. Together, they have also designed many stamps for Canada Post Corporation. At the philatelic art festival held in Asagio, Italy, on July 6, 2000, Sophie Lafortune was awarded first prize in the philatelic fine arts for a series of eight stamps on traditional trades she designed. She has also collaborated on the art book "Le cueilleur d'histoire," published by the Musée national des beaux-arts du Québec, and on "Jean Soulard, naturellement," a cookbook by the chef at the Château Frontenac.

ISN BIOPHIL: 101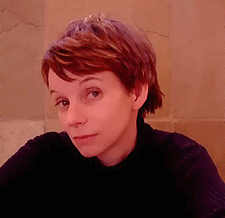 Sophie Lafortune, 2002. Photograph provided by S. Lafortune.